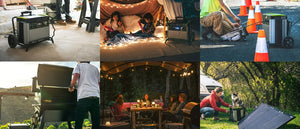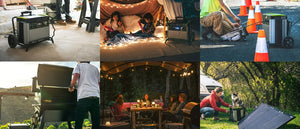 BIG PORTABLE POWER
FOR DAYS ON END
POWER. ANYTHING. ANYWHERE.
YETI 6000X & 3000X PORTABLE POWER STATIONS
Equipped with 6,071 and 3,032 watt-hours of lithium power respectively, power your life at home, at work, and on the road. Seven versatile port options allow you to run even the most power-hungry devices and appliances from power tools and work sites to essential home circuits, electric bikes and more. All at the push of a button and without the noise, fumes, or maintenance of a traditional gasoline-powered generator.
*Each Yeti X portable power station comes pre-installed with a Type G (Three-pin) electrical socket adapter. Additional Type C (Euro-plug) adapter also provided with purchase.*
EXPERIENCE UNLIMITED POWER
• Collect and store power directly from the sun by pairing your Yeti with our portable or mountable solar panels.

• Durable, waterproof and lightweight to go where you need it, and tough enough to handle the elements.

• Adjustable kickstands allow for easy positioning and storage.
PORTABLE POWER OF ALL SIZES
• Light, compact, and reliable power for smaller adventures.

• Keep essentials charged from door to destination and back again.

• High-speed Power Delivery and variety of ports and powering options allow you to charge up and run multiple devices simultaneously in no time.
GOT A QUESTION?
Not sure if our products meet your requirements?
Write to us or call us at 6272 1151.
Alternatively, visit our showroom here.